Fangirl
By: Rainbow Rowell
Genre: Young Adult, Romance, Contemporary
Fiction, Love, Realistic Fiction,Chic Lit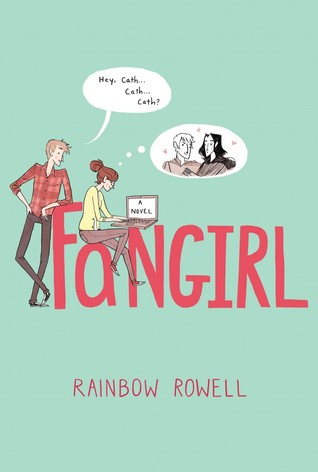 From the author of the New York Times bestseller Eleanor & Park.
A coming-of-age tale of fan fiction, family and first love.
Cath is a Simon Snow fan.
Okay, the whole world is a Simon Snow fan...
But for Cath, being a fan is her life—and she's really good at it. She and her twin sister, Wren, ensconced themselves in the Simon Snow series when they were just kids; it's what got them through their mother leaving.
Reading. Rereading. Hanging out in Simon Snow forums, writing Simon Snow fan fiction, dressing up like the characters for every movie premiere.
Cath's sister has mostly grown away from fandom, but Cath can't let go. She doesn't want to.
Now that they're going to college, Wren has told Cath she doesn't want to be roommates. Cath is on her own, completely outside of her comfort zone. She's got a surly roommate with a charming, always-around boyfriend, a fiction-writing professor who thinks fan fiction is the end of the civilized world, a handsome classmate who only wants to talk about words... And she can't stop worrying about her dad, who's loving and fragile and has never really been alone.
For Cath, the question is: Can she do this?
Can she make it without Wren holding her hand? Is she ready to start living her own life? Writing her own stories?
And does she even want to move on if it means leaving Simon Snow behind?
Okay, guys, Naomi has already reviewed this book, so why don't we just skip all the pleasantries and get straight to the point?
THIS BOOK WAS REALLY GOOD!
I read it in a few hours and it was just a really cute romance novel. I think that if you've read the Simon Snow books that this book would touch you in a completely different way (not a naughty "show-me-where-on-this-doll" way, but a good emotional way). I'm actually going to see about getting the Simon Snow series. You guys will obviously know if I do because I'll review them here.
While Cath was painfully introverted, and her sister kinda rejected her, I liked it for some reason....
Anyway, as you may know (Hey, you may not, but das okay), I am scary good at predicting what is going to happen in romance books...usually in the first chapter, sometimes even the first
pages
. I hate to say it, but my predictions about this book were off, by a LOT.
There really isn't a lot to say; it was a really cutsie, quick romance novel.
To top the amazingness off, not only does Rainbow (omg, don't you just love that name) give you segments of the Simon Snow novels, but she gives you pieces of Carry On, Simon, which is the fanfiction that Cather is writing,
as well
as pieces of her and Wren's earlier fanfictions. I think she's actually going to PUBLISH Carry On, Simon, *dies*.
I'm nearly positive that she also wrote a book that's been on my list for agesss, so I've basically stumbled onto a gold-mine.
I'll leave you with this, lovelies, if anyone is even on our blog regularly,
Speaking of, I'd like to apologize for the irregularity of our posts, so if anyone is a regular reader of our blog, I sincerely thank you. I promise we're going to get a schedule up and running eventually!
Until next time (which will be very, very soon because I'm already on the second book of a new series). Now I get to go spend over an hour making a Sensible Book Sunday for youu. Wish me luck!
Blog you later, lovlies!